Multi-source : retrieve data from all SAP tables and languages.

Cross-analyze various business processes and SAP modules.

We mean business: clear and relevant wording to make SAP more accessible. 

Thousands of pre-calculated KPI and ready-to-use reports. Or simply create a new one with drag & drop!

Results displayed in Every Angle, SAP or other vizualisation and BI tool such as Tableau, QlikView, etc.

 User-friendly interface and customisable dashboards. Access from any device, smartphone and tablet!
Cross-process intelligence : discover, analyze and resolve bottlenecks and other issues all along the value chain.

Complete horizontal vision accross all processes and immediate understanding of underlying connections.

Real self-service: give more autonomy to the business and have IT make a better use of its time.

Free-up the value trapped in your supply chain by identifying bottlenecks and misallowed ressources.

Become more agile: accelerate BI projects by quickly retrieving ready-to use data.

Plug & play, certified SAP software: install in 3 days and start using it!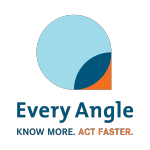 More info about Every Angle?
Case study
HEINEKEN INTERNATIONAL UTILISE EVERY ANGLE POUR RESPONSABILISER SES UTILISATEURS MÉTIERS GRÂCE AU SELF-SERVICE BI.